Holy Trinity Abbey in Adare, Co. Limerick, Ireland, is a place of Christian worship for over seven hundred years and home to Holy Trinity Abbey Choir. Holy Trinity Abbey Choir was founded in 1995 under the directorship of Tracey Fitzgerald.
Holy Trinity Abbey Choir is a voluntary Church Choir and sings at 11.30am Mass each Sunday and at all liturgical festivities throughout the year including the Dawn Mass on Easter Sunday; ordinations; weddings and funerals. Now in its sixteenth year the sheer enthusiasm, perseverance and love of music and God have brought this choir together as a "family" which has received many graces.
Since its foundation the choir has sung in concert with Frank Patterson, Finbar Wright, Dolores Keane, the Garda Band, Limerick Tenor – Derek Moloney and renowned composer, Fr. Liam Lawton.
At the Limerick Music Festival Holy Trinity Abbey Choir won Best Limerick Choir in 2005 & 2007 and also took the highest accolade of the competition winning Church Choir of the Year in 2005 and 2007.
In 2007 the Choir was very privileged to be part of the RTE televised Palm Sunday Mass live from Holy Trinity Abbey, a sacred and unique occasion.
In 2002 the Choir produced its first CD, Christmas Carols with the Holy Trinity Abbey Choir which launched the choir onto the international music scene as well as raising much needed funds for the Irish Cancer Society.
In 2008 the Choir launched a second CD of sacred church music "Sacred Sounds", the proceeds of which go to the Restoration Fund for our beloved church.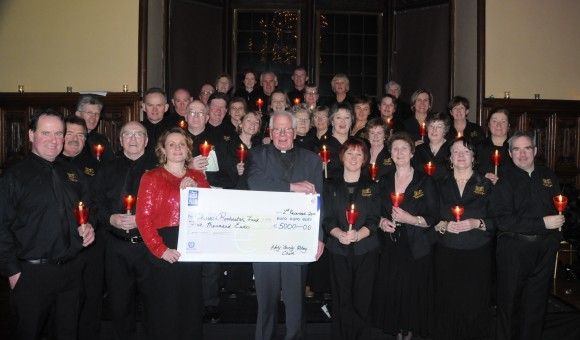 In the July 2008 the Choir made its inaugural trip to the USA – to Boston, Mass. at the invitation of Mr. Billy Higgins and Sen. Jack Hart. The trip was a tremendous success. The Choir had a very full itinerary over the 12 day trip, singing at Senior Housing complexes, at mass in six different churches in the Boston area as well as performing the US national anthem before the Red Sox baseball game in a packed Fenway Park! We were also invited to sing in the Massachusetts State House for Governor Deval Patrick, the Senate House for Senate President Therese Murray and before the House of Representatives. The purpose of the trip was fund-raising for the Southill Junior School in Limerick, the schools of the Boston parishes we sang in, as well as our own four local national schools in Adare.
In 2010 we held a hugely successful Variety Concert in the church to commence the fund-raising projects for the Restoration of Holy Trinity Abbey.
In January 2011 we joined with the Methodist Community here in Adare and Rev. Paul Kingston for the Annual Covenant Service which was broadcast live on RTE Radio 1. We have also begun planning a third CD of Christmas Music which hopefully will be available in October 2011. Check back for updates!
Choir Members:
Director: Tracey Fitzgerald
Sopranos:
Altos:
Tenors:
Basses:
Musicians:
Benson, Marion
Canty, Trish
Clifford, Margaret
Dunraven, Geraldine
Fitzgerald, Tracey
Gallivan, Mary
Hickey, Tanya
Higgins, Maureen
Kelly, Maureen
Keohane, Anne
Moore, Elizabeth
Moore, Mary
Murphy, Aileen
O'Brien, Ulrike [RIP]
O'Byrne, Eileen
O'Mara, Carl
Phillips, Margaret
Quaid, Betty
Sheehy, Orla
Shire, Patsy
Teskey, Dorothy
Thompson, Maura
Barkman, Margaret
Butler, Bridget
Collins, Antoinette
Costello, Nuala
Cuddy, Kathryn
Culhane, Eileen
Gallivan, Rachel
Kirwan, Ena
Mackessey, Noreen
O'Brien, Nellie
Purser, Rebecca
Collins, Frank
McMahon, Michael
O' Shaughnessy, Tom
Barkman, Peter
Brennan, David
Darcy, Niall
Gleeson, Martin
Hartnett, Noel
Madden, Paddy
Moore, Georgie
Moore, Ger
Moore, John
Flute: Kathryn Cuddy
Guitars: Niall Darcy
Ger Moore
Tom O'Shaughnessy
Percussion: Martin Gleeson