Requirements for Getting Married are as follows:
State Requirements
Permission from the local Civil Register of Marriages at least three months in advance.  The local office is at the rear of St. Camillus' Hospital.  The address is:
The Register of Marriages,
St. Camillus' Hospital,
Shelbourne Road,
Limerick.
Church Requirements
Pre-Nuptial Form for both the bride and groom from their present parish.  This is the most important requirement.  It has to be obtained in person and signed personally with documents 1, 2 and 3 below included.  This should be completed three months before the wedding.
Baptism Certificate issued within six months of marriage date.
Confirmation Certificate (old copy will do).
A simple Letter of Freedom may be required if you have lived away from your present parish for over six months of your adult life (you would obtain this from the parish you resided in for over six months) or a sworn Affidavit from a Commissioner of Oaths or a Solicitor.
You are very welcome to have a priest relative or priest friend preside at your wedding, but please ask him to make contact with Monsignor Daniel Neenan, Parish Priest.
For couples who live outside of the parish, we would appreciate a contribution of €750 towards the refurbishment and upkeep of our church.  You might also make a contribution to the Celebrant and Church Administrator.
Couples who are parishioners, are asked to contribute €250 for the use of the Church.
Couples should contact ACCORD on 061-343000 to arrange a Pre-marriage course.
Couples who have relatives unable to attend their ceremony can live stream on the church webcam by accessing www.adareparish.ie and View Webcam.
Confetti is not allowed in Adare Church.
We will also help you with the details of the wedding Mass and arrange a rehearsal.
We wish you every happiness.
Monsignor Daniel Neenan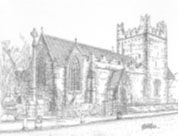 If anyone would like to use this image on their Wedding Booklets, please feel free to do so.
Just right click on the image and select "Save image as".  You can then name it and save it.
If you would like to check out some local musicians who may be available to play at your wedding, here is a short list:
Lynda O'Mahony 087 993 4489
Emily Clarke 086 192 8017
Ann Morrissey 087 856 1898
Tracey Fitzgerald and the Holy Trinity Church Choir 086 839 0206
Go to www.limerickdiocese.org for information on Marriage Preparation Courses and other information on getting married in Limerick Diocese.